Confusion As Wike Wants Senator Ayu Out, Atiku Backs PDP Chair To Remain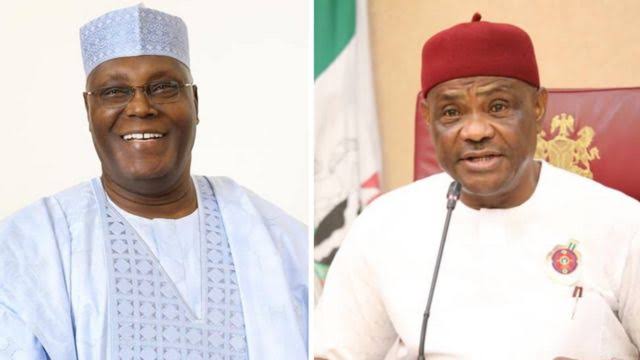 The presidential candidate of the Peoples Democratic Party (PDP), Atiku Abubakar, and Governor Nyesom Wike of Rivers State are divided over the future of the party's national chairman Iyorchia Ayu.
Naija News reports that while the Rivers governor wants the former Senate President out, Atiku wants him to remain for the 2023 general elections.
Allies of Wike are pushing for the ouster of Ayu so the PDP can elect a new chair from the southern part of the country.
They recalled that during the election of Ayu as chairman, the leaders had agreed that the former Senate President from Benue State would resign if a northern presidential candidate emerged.
Wike's camp is now insisting that Iyorchia Ayu's resignation would address the lopsidedness in the PDP hierarchy.
Atiku; Walid Jubrin, PDP Board of Trustees chairman; and the next in line to Ayu, deputy national chairman (North), Umar Damagun, are all from the Northern region.
A source had told Premium Times that Wike had told Atiku during a visit after the PDP presidential primary that Senator Iyorchia Ayu needed to step down.
The source said: "During the visit, Wike and Atiku held a private meeting, and it was Atiku who brought up the issue of his running mate.
"He told Wike that he had not made up his mind on the issue, and he asked Wike whether he would take it or nominate a person to take the slot. Wike told Atiku that he would need to consult with his people on the offer.
"Then Wike reminded Atiku of the agreement that Ayu would resign if a northerner won the primary. Atiku said he would discuss it with Ayu but that both of them should keep the issue between them until he had persuaded the chairman to resign.
"Unfortunately, we later heard that Atiku told Ayu that Wike was demanding that he should be removed. When we heard that, we were surprised because by then, Wike had not even told us that he had discussed the issue with Atiku.
"They are now arguing that Ayu should be allowed to stay on until after the election. They are playing games so that if Atiku loses, they will say it is unnecessary for Ayu to leave. That way, the South will continue to be marginalized in the party."
Another source revealed that Wike was unhappy with Ayu after he visited Governor Aminu Tambuwal of Sokoto State, where he described the governor as the hero of the convention.
"Wike was angry with the chairman and said his statement to Tambuwal exposed his connivance in the conspiracy that denied him (Wike) and the southern region the PDP ticket. It was out of that anger that he demanded Ayu's removal when Atiku visited him," the source said.
Source