How to Write a Biography About Yourself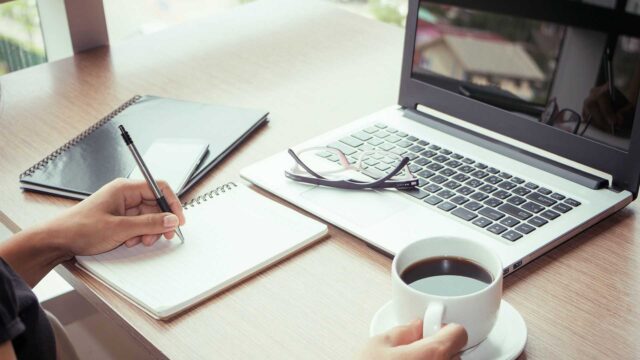 At any one time, we've all been in a situation where we're agonizing over how to write a personal biography that doesn't come across as too self-promotional or flat with modesty. 
In many cases, how you write a biography about yourself will define your first impression to potential employers, prospective clients, customers, or people at a networking event. A personal bio can make or break your credibility. Therefore, you should write it in a way that makes it count.
Many readers will get bored or lost with a lengthy bio. Writing a concise and engaging bio about yourself can be easier with simple tips. In the following post, find out how to create a definitive biography about yourself and amplify your chances of landing your dream job or making a great first impression.
How to Write a Biography About Yourself
Introduce yourself
Writing a biography about yourself starts with a short introduction. The most important details should come first. The first sentence should state your name, followed by some essential information you want to highlight, such as your education, significant achievements, and certifications. The introductory sentence should be followed by a statement about your values, attributes, passions, and skills.
Be Mindful of the Length
It is good to keep in mind the length of the biography throughout the writing process. It is easy to go off on a tangent and try to rationalize or include everything, making your biography essay too long. Avoid the impulse because the goal is to write a short biography. 
You want the reader to be intrigued and inspired to seek more information about you. Always have a clear word limit that will help you to streamline your content. 
To ensure that you are concise, ask yourself the purpose behind writing the biography, the achievements that set you apart from the crowd, and your personal and professional background. Remove any content that doesn't relate to the purpose of the bio.
Write in the Third Person
While it can feel strange, writing in the third person has many benefits. Using the third person allows you to include your full name in the bio. The strategy also optimizes your biography from a search engine optimization viewpoint. 
It lets search engines know that the bio is original and well-written content about you. One important thing to be mindful of when writing a biography about yourself in the third person is to avoid overusing your name. Everything you include in the bio should seem like a natural inclusion.
Write Strategically
You must follow a strategic approach when writing a work biography about yourself. You must write a story and not a list. It is easy to fall into the trap of rattling off accomplishments. 
Instead, turn your biography into an engaging account about you. A compelling narrative allows you to differentiate yourself from others. Using formative anecdotes will enable the employer or audience to understand your interests, passion, and core values.
Include Your Contact Information
When you write a personal biography about yourself, you want to inspire the reader to reach out. A contact information section in your bio makes you come across as an open and approachable person. Add your email address, link to professional social media platforms, and link to your contact page. 
Only add contact details that are active to allow readers to have the means to communicate with you. The contact information should be easily visible and placed at the end of your bio.
Proofread
A personal biography is a reflection of you as a writer and editor. You don't want an ill-written paper to speak for you. Make sure that you proofread your biography for spelling and grammatical errors. You can ask for honest advice from other people on ways to make it more readable. 
You can also use online editing software to grade the piece's readability. Proper editing ensures that a biography about yourself is the most professional representation of your background, character, and accomplishments.
Tips to Write a Biography Essay About Yourself
Knowing how to write a biography about yourself is not enough; you must ensure it reaches the right people and appeals to them. Read on to explore tips you can apply to optimize your biography and distinguish it from the competition.
Get Help from an Expert
Sometimes you need a second pair of eyes to edit your biography or a specialist to write the paper for you from scratch. That's the part where essay writing services online come in handy. 
Professional writers can review your drafts or assist with writing a personalized biography. The writers understand the ins and outs of writing a personal biography that helps you achieve your goals. 
Apart from helping with the strategy for the bio, a professional writer will help you define the most powerful way to talk about yourself. This will allow you to position yourself effectively against the competition. 
Visit the CustomWritings website today and get a free consultation with an expert who will help you write a custom biography essay about yourself.
Link to Your Portfolio
A personal bio is a marketing tool. Adding links to any of your works or mentions of accomplishments posted online is one of the ways of adding credibility to your bio. Limit the number of links by only adding your best and most impressive work. 
You can include anchor words in the text and add a relevant link to help the reader learn more about you. Also, link the website address and personal works in your other contact information. Make sure to end with a call to action with links to the appropriate web pages.
Add Tasteful Humor
While keeping a professional tone when writing a biography about yourself is important, consider adding some fun and tasteful humour. Examples of tasteful humour include an anecdote story or a quirky experience. 
The element can make the biography feel more personal and leave your reader with a good impression. Still, do not include content that may be considered offensive or unprofessional. A good rule is to match your humour with HR standards.
Utilize SEO Strategies
It would be best if you optimized your presence in online searches. Applying SEO guidelines can make your biography stand out. 
They include ensuring the piece has original content and the right length, using the best keywords related to your industry, adding a high-resolution professional photo, and maintaining a professional tone and consistency in all your online channels. SEO analysers can check your bio for solid branding and SEO credentials.

Post Your Bio, Music, Quest Post & More On TheCityCeleb
WANT REAL INSTAGRAM ACCOUNTS? CLICK


Source