You Lack The Power To Prosecute Me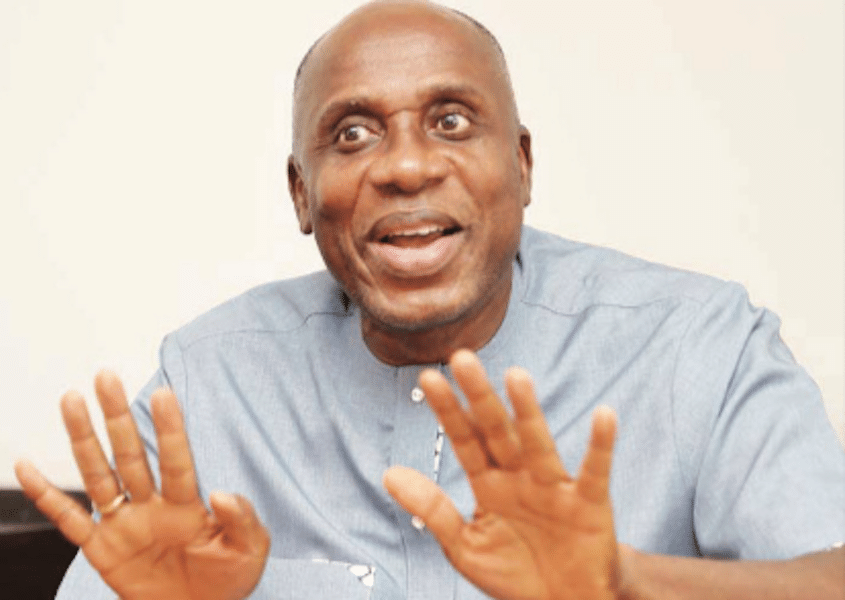 The immediate-past Minister of Transportation, Chibuike Rotimi Amaechi, has said that Governor Nyesom Wike of Rivers State lacks the power to prosecute him over the alleged N96billion fraudulent sale of state assets.
Recall that the Supreme Court had dismissed a suit brought before it by Amaechi challenging the setting up of a seven-man probe panel against him for lack of merit.
The apex court affirmed the power of the Rivers State Government to set up a panel of inquiry to probe any financial dealings in the sale of the assets.
Earlier, the Rivers State Government had set up a seven-man panel to probe Amaechi's involvement in an alleged N96 billion sale of state assets during his eight-year tenure as Governor.
Following the apex court ruling, Wike directed the State Attorney General and Commissioner for Justice to kickstart the prosecution of Amaechi and others involved in the deal.
Speaking with journalists at the All Progressives Congress (APC) state secretariat in Port Harcourt on Saturday, Amaechi said Wike only has powers to set up a panel and not to prosecute him or anyone.
Amaechi said that the job of the probe panel is to gather information and pass the information to either the Police or the anti-graft agencies.
The former minister disclosed that the Police has not invited him for questioning over the report of the probe panel, adding that he also has not gotten an invitation from both the ICPC and the EFCC.
He said: "I hope that the governor has good lawyers. The Supreme Court said in their judgement that he has powers to set up a panel and the job of the panel is to gather information.
"That after gathering the information, they should pass the information to either ICPC, Police or EFCC. The Police have not invited me, ICPC has not invited me and EFCC has not invited me.
"Secondly, there is what we call fair hearing. At that point when they will invite me, it is called a fair hearing because they will hear my own side of the story. You have not heard my own side of the story and you went to Court to do what. Something must be giving you confidence.
"It is not about being served by the Court, the Supreme Court said before you go ahead, you have to send it to the investigating authorities and it is when they finish the investigation that they will decide whether the matter will come to Court or not. You have not done any of those things and you are in Court. So, what will you be telling the Court.
"Two, everything that was done was done transparently. There was an agency called the Public Procurement Agency and all those things passed through.
"We shouldn't be talking about an issue that is before the Court. Let the Court decide. Tonye Cole didn't act in his personal capacity, he represented Sahara Energy. You know this is political because they are afraid."
Source