'Atiku, Ayu Turning PDP To Northern Party, South-West Behind Gov Wike'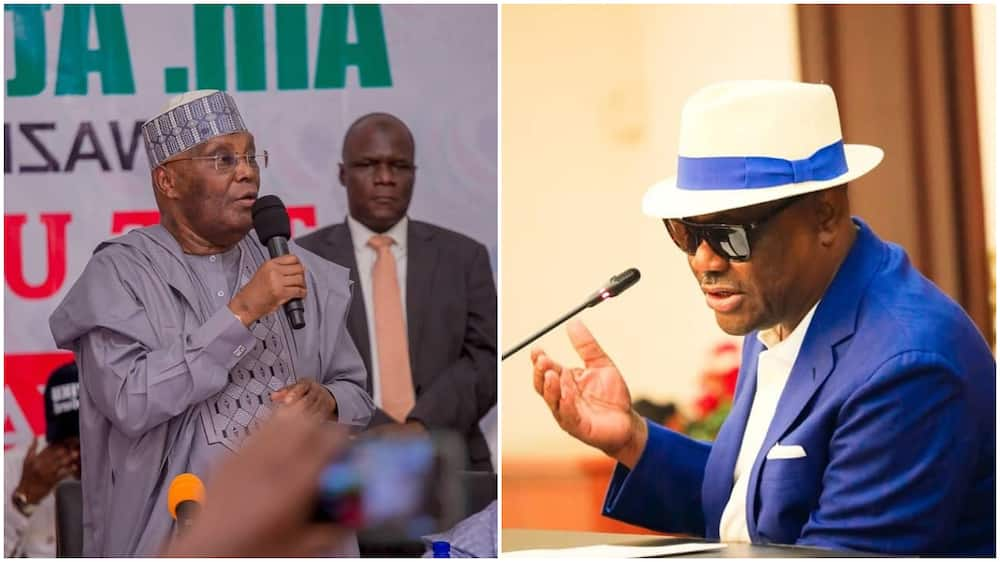 The presidential candidate of the Peoples Democratic Party (PDP), Atiku Abubakar, and the party's national chairman, Iyorchia Ayu, have been accused of trying to turn the PDP into a northern party.
Recall that the camp of the Governor of Rivers State, Nyesom Wike, has called for the resignation of Ayu after the emergence of Atiku as the party's presidential candidate for fairness and equity.
But Naija News reports that Ayu had, during an interview with BBC Hausa, insisted that he won't resign as the party's chairman, adding that he was elected to serve a tenure of four years.
Speaking to Vanguard, a source, who is a member of the Board of Trustees, BoT, insisted that the party's national chairman must resign for peace to reign, adding that the South-West is behind Wike.
The PDP leader, who spoke in confidence, said: "Wike knows what he is doing.
"These people (Atiku's camp) know what they are doing, they have insulted us. Some of us are the ones holding the party together and preventing it from disintegration. For peace to reign, the zoning committee met and resolved that the contest should be thrown open then for all aspirants to contest.
"Now, the North has the presidential candidate, they have Board of Trustees, PDP Governors' Forum and National Chairman, but the South has nothing. What we want is for Ayu to resign so that the South can produce the chairman and then have a sense of belonging.
"Atiku and Ayu are refusing that which shows that these people are the same; they are turning the PDP into a northern party. If we fail to do the needful, this will be the beginning of that break-up. Some of us will go home with dignity, and we will not succumb to what they are doing.
"They say people are defecting in Katsina and Kano states to the PDP; it is because they have the candidate to show for it. What do we have in the South-West? Ayu is insisting that he won't resign until after the election, but we have alternatives. Ayu's continued stay will kill the PDP, and I don't know where his loyalty is."
The PDP leader stated that the removal of Ayu would lead to peace and ensure there is a sense of belonging within the party.
He said: "What can lead to peace is for Ayu to resign and tell the South-West to bring a candidate for the chairmanship. All Ayu is saying he won't resign but Atiku knows the truth and he must do what is right.
"We must give our people a sense of belonging. Most of us in the South-West are behind Wike because what he is saying is in our interest. What we are asking for is to convince our people in South West that they are part of the leadership of the party."